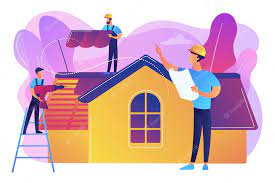 Introduction
Selecting the optimal roofing contractor to install, replace or perform roof repairs on your home's roof is one of the most important homeowner decisions you can make. Your roof serves as the first line of defense protecting your most valuable asset from the elements. Hiring the wrong roofing contractor can lead to shoddy, defective workmanship, low-grade materials that fail prematurely, persistent leaks, and major headaches for years to come.
As a homeowner, how can you feel truly confident you're choosing a qualified, experienced and reputable roofer that will exceed expectations? Start by asking these 10 essential screening questions before making any hiring decision:
1. Are You a Locally Established Roofing Contractor?
Quality local roofers take pride in being long-established within the communities they serve. Favor roofing contractors who have operated an actual local office in your area for many years, not just transient "storm chaser" operations that swoop in following disasters.
Use Google searches and maps to verify they have a legitimate permanent business location and address in your city, rather than just a P.O. box or virtual office. Longstanding local presence indicates stability, accountability, and commitment to supporting homeowners before, during and after projects. Transient contractors often disappear quickly after jobs wrap up, leaving you stranded.
2. May I Please See Your Insurance Certificates and Licenses?
Any professional roofing contractor should carry adequate general liability insurance, workers compensation coverage for employees, and maintain up-to-date local licenses permitting them to perform roofing work in your area.
Ask to visually examine current documentation of their insurance policies and local/state business licenses. Never hire a company that can't readily provide proper credentials – it puts you at major financial risk in the event of on-site injuries, property damage, project issues or other liabilities arising. Reputable roofers will have no problem furnishing documentation.
3. Can You Furnish References From Past Roofing Clients?
High quality roofing contractors will gladly provide references from past clients you can contact directly. Speaking to previous customers about their experience provides transparent insights into the contractor's expertise, workmanship, professionalism, timeliness, materials used, and handling of any problems that arose.
Strong positive word-of-mouth referrals from satisfied homeowners build trust far beyond simplistic online reviews which can be misleading or falsified. Responsible roofing contractors anxious to earn your business should have no reservations allowing you to speak with prior customers. Verifying past performance gives you added peace of mind.
4. Do You Provide Thorough Explanations and Detailed Estimates?
One potential red flag is roofers who present vague, barebones estimates or contracts lacking sufficient detail about the full scope of work. Some unscrupulous roofing contractors intentionally omit specifics in hopes of cutting corners later or tacking on hidden extra charges not agreed upon.
Don't be pressured into signing any estimate or contract until you fully understand exactly what is included – and not included. Ask the roofer to provide crystal clear explanations and descriptions of all anticipated work elements, materials, and costs. Insist on transparency upfront and get promised details in writing to avoid misunderstandings. Blind trust can lead to very unsatisfactory results.
5. Do You Use High-Pressure Sales Tactics to Get Contracts Signed Quickly?
Run far away from any roofing contractor who employs excessive pressure, scare tactics, exaggerated claims of savings, or other slick maneuvers designed to get your signature on a contract immediately. Tactics like these are glaring red flags that something is not right.
Reputable roofing professionals allow you adequate time to make informed decisions, compare multiple bids, and carefully weigh options. Rushing into big financial agreements often leads to major regrets down the road. Listen to your instincts – if something feels pushy or forced, there's good reason. Take your time and get competitive estimates.
6. Are There Contingency Clauses or Limits on What I Can Publicly Review?
Carefully read all contracts front to back before signing anything. Watch for concerning "contingency clauses" that force you to pay even if you want to cancel because of poor work quality. Also beware "non-disparagement clauses" restricting your ability to post negative reviews if warranted.
Ethical, a competent roofing contractor stand firmly behind their work without needing to handcuff unhappy customers. Don't get pressured or tricked into signing questionable contracts you'll later regret. Demand fair, transparent agreements.
7. What Brands and Quality Grades of Roofing Materials Will You Use?
When examining contractor proposals, ask specific questions about which manufacturers and material quality grades they typically install on projects like yours. A top tier roofing contractor use premium roofing products from reputable brands that offer strong warranties. They don't cut corners using flimsy generic materials likely to fail prematurely.
Understand differences between builder-grade and architectural-grade shingles, membrane types, metal gauge differences, and other material quality markers. A roofer vague on brands used may simply opt for the cheapest products available. Dig into these details.
8. Can You Provide Full Details About Installation Methods, Timeframes, Clean-Up, and Warranties?
A quality roofing contractor will gladly explain their complete roofing process including: Site protection techniques, installation methods following best practice standards, daily clean-up processes to contain debris, final walkthrough and inspection procedures, all warranty coverages (workmanship, materials, etc), and projected timeframes for material delivery, project milestones and final completion.
Don't hesitate to ask lots of questions until fully satisfied they take aesthetics, performance, safety and customer service seriously. Reputable contractors have nothing to hide. Clear communication and transparency upfront prevent problems later.
Conclusion
Selecting the optimal roofing contractor entails much more than basing decisions on the lowest bid. It requires carefully examining experience, qualifications, business practices, materials used, and the critical human factors that contribute to a successful partnership built on trust and mutual benefit.
Homeowners who take time to ask the right questions – then verify through references – are rewarded with satisfying roofing projects completed to their standards. Rushing the contractor selection process or failing to verify claims often leads to disappointment. Do your homework and hire right the first time.